I'll never forget my first coffee. It's one of those moments that is burned into my brain. My aunt took me to the new Starbucks that had just opened and bought me a mocha with whip. I was 16, had just gotten my license, and had a little cash in my pocket from my after school jobs. And, thanks to my aunt, that little trip started a love affair with all things coffee that has continued to flourish and grow (and drain my bank account) to this day.
Since then, I have amassed an impressive coffee cup collection, tried at least a dozen different types of coffee makers, from Keurig to pour over, and visited hundreds of coffee shops all over the world.
So, starting this coffee blog has really been the full circle evolution of my coffee obsession. That's why today I am sharing the best coffee gifts that you could give to a coffee lover (even if that person is yourself).
So, whip up a coffee recipe from this post, get a cozy blanket, and let's get shopping. Know that at no cost to you, affiliate links are included below, which means I'll receive a small commission if you purchase something using my link. I only recommend companies and products I use and love.
The Best Gifts for Coffee Lovers: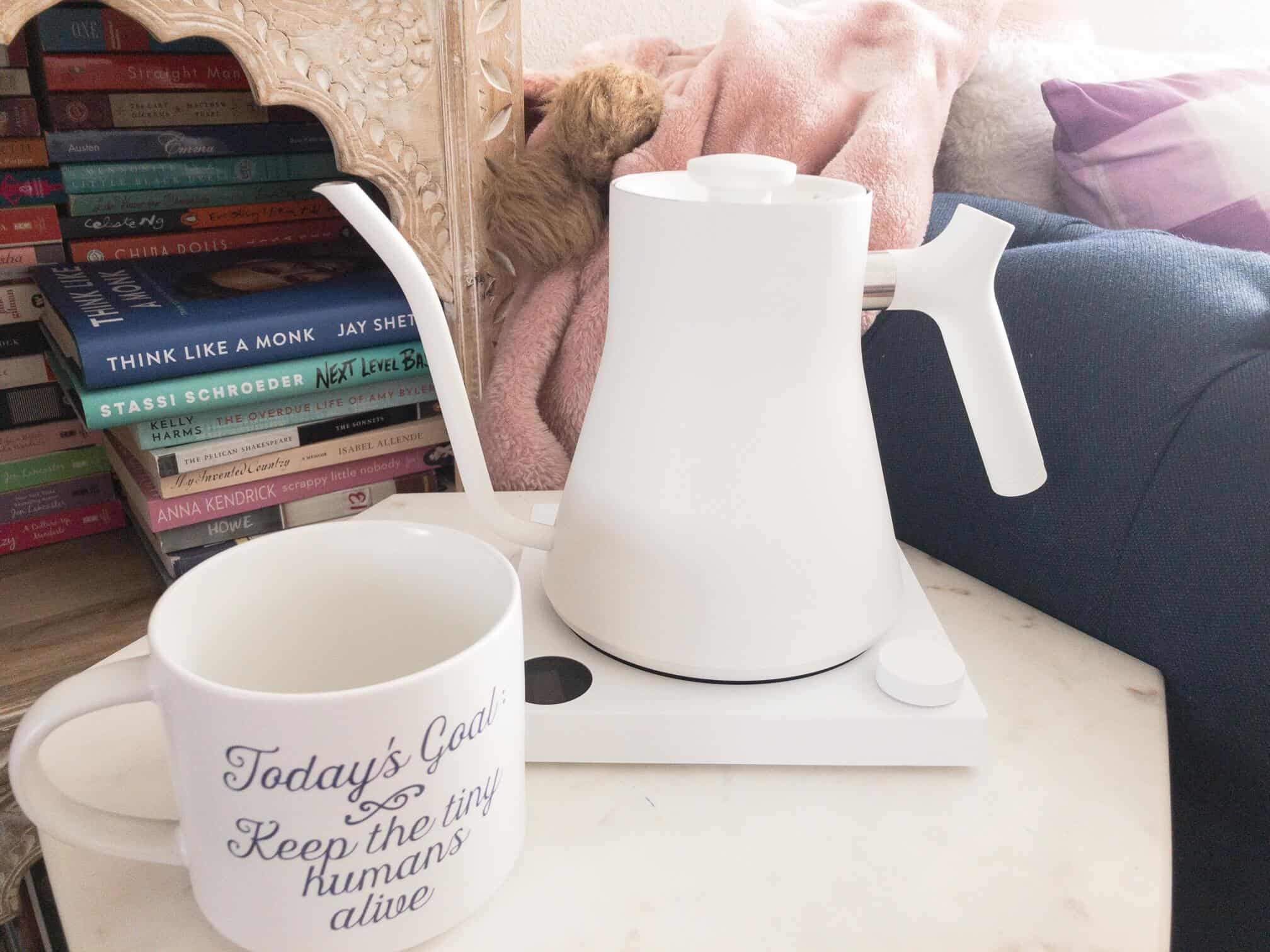 This is my absolute newest obsession. I've been eyeing this for a long time and she's finally mine. All mine. I use this at least once a day now, usually more. Can you blame me? This is one chic kettle.
Talk about counter candy – this baby also look pretty just sitting there. And, when you need that hot water ready to go – she'll warm it up to the perfect temperature (212 degrees for me) or whatever you'd like, in literally seconds.
You can keep the water hot if you'll be back for refills or just serve and go. Whatever floats your boat. The stainless steel interior makes it a breeze to clean, too.
I think this is the absolute perfect gift for the coffee or tea drinker in your life. Super high quality, extremely good looking, and expertly designed to give you the perfect pour over cup of coffee. Yum.
Comes in a ton of colors, but I have to say, she sure looks pretty in white.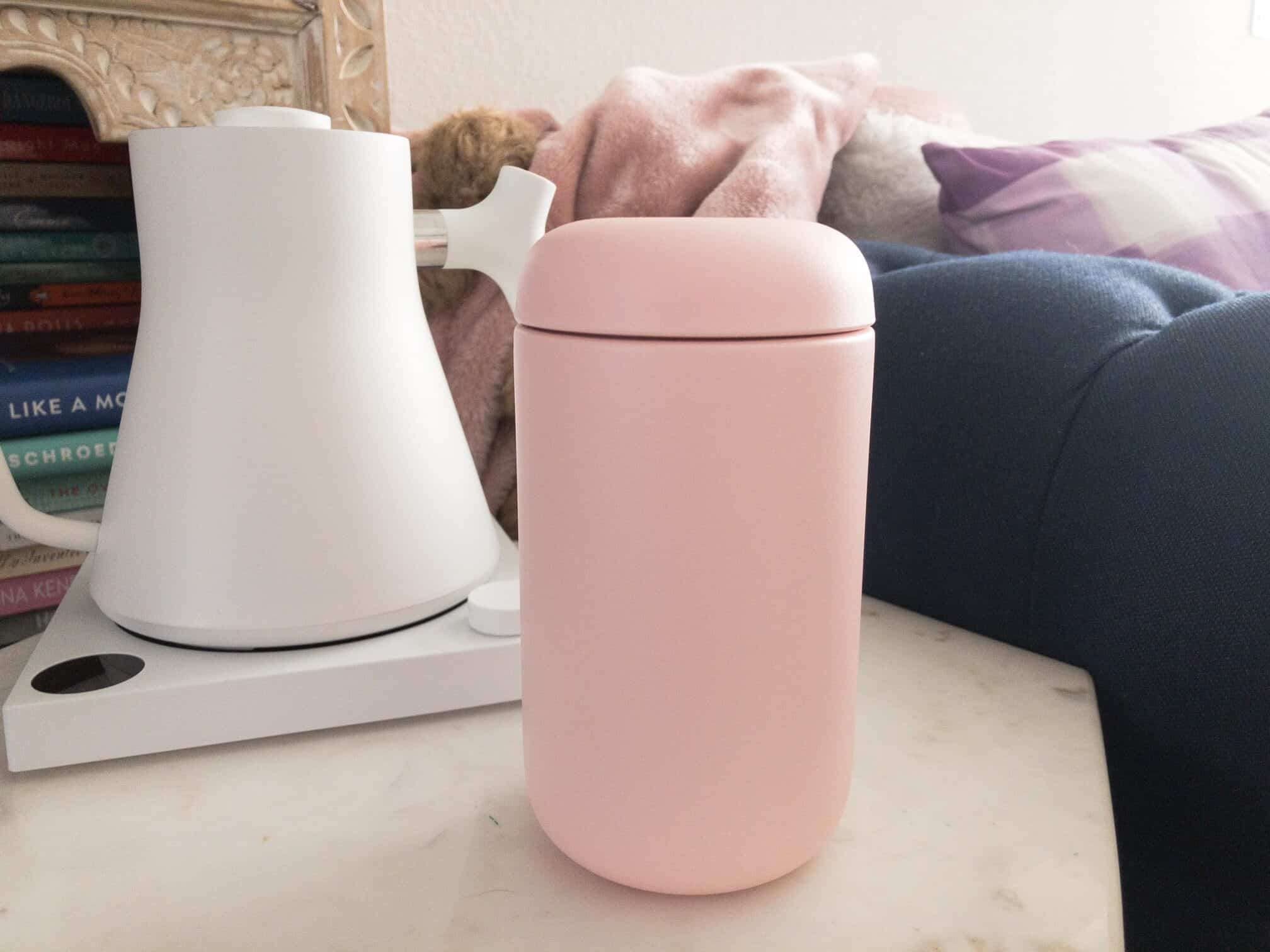 The coffee mug just got redesigned, folks. You won't even believe how much thought went into making this perfect to-go (or stay) mug. I use this all the time, because with kids, I can be in and out all day. I keep it simple by using my Everywhere Mug, so I can just twist on the lid and get out the door.
With a cool ceramic interior, instead of stainless steel, you'll notice that this mug will not change the taste of that perfect cup of coffee the way that other to-go mugs can. Genius.
And, if you're like me and hate the thick lips of many mugs, you'll love that Fellow hates that too – so they created a lip similar to that of a wine glass or your favorite coffee mug, to allow for more comfortable sipping of your coffee. Please and thank you.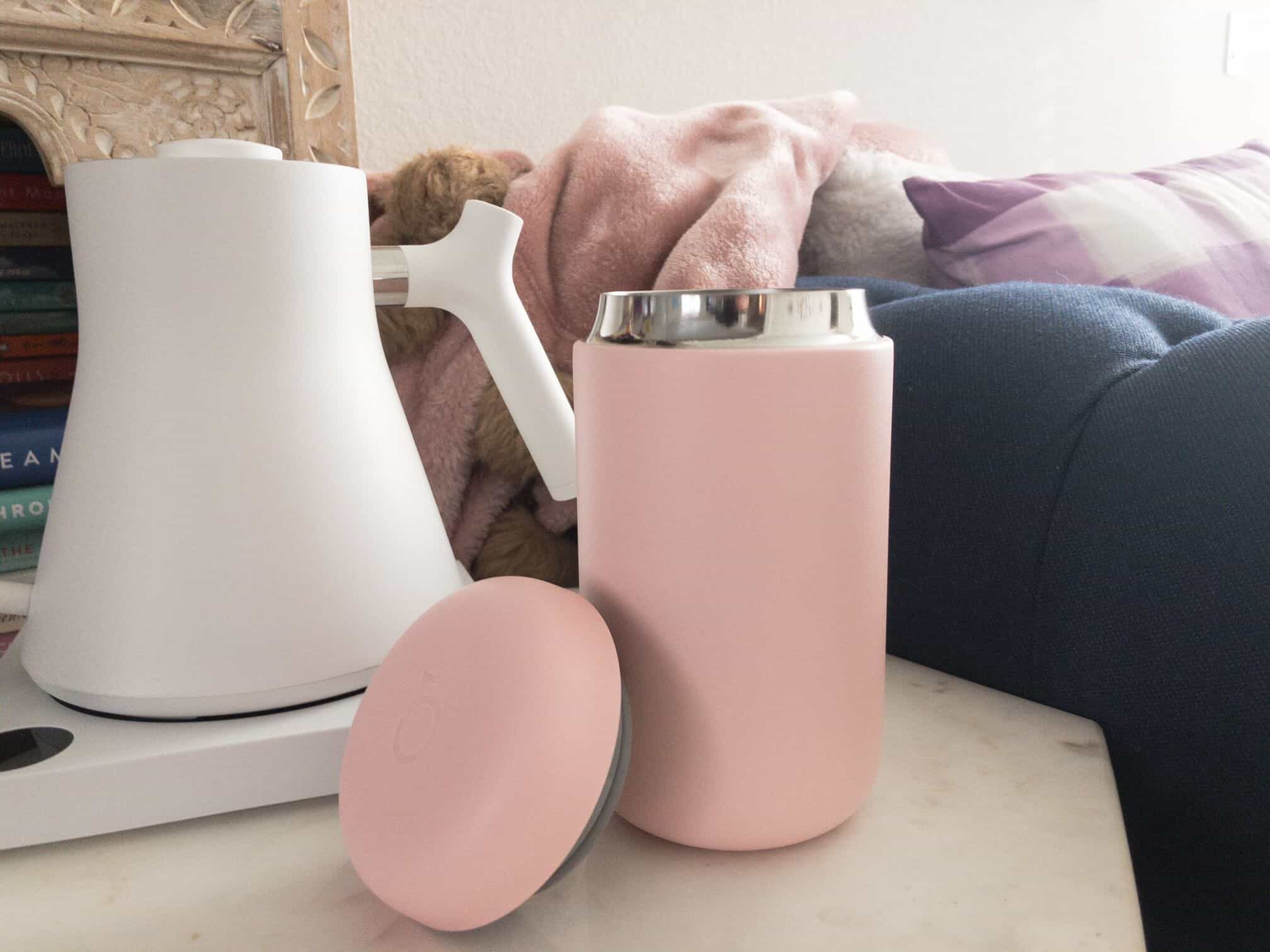 The lid screws on tight and keeps your coffee drip free on the go while also fitting in pretty much any car cup holder. Oh, and of course, it was designed to fit in most coffee pod coffeemakers, such as the Nespresso. That's important. You feel me?
Grab the Fellow Carter Everywhere Mug here. Or, score a free Fellow mug with the Jot bundle below!
That brings me to my next point: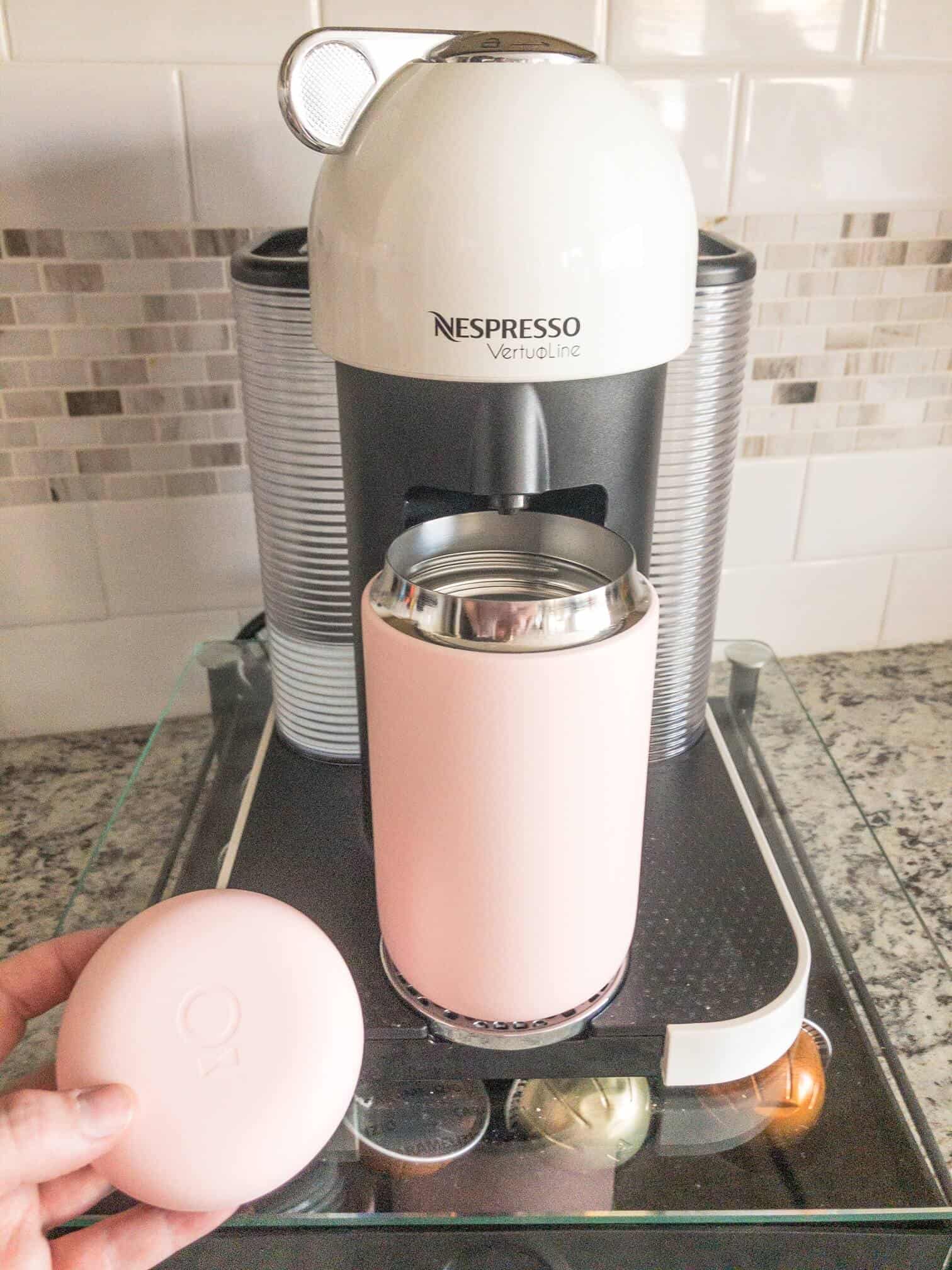 You've probably heard of the Nespresso by now. Maybe you have one and love it. Either way, it makes a great gift – especially for someone in your life who is not a morning person, has a super busy lifestyle or just doesn't want to spend 10 minutes making a pour-over.
I think any of the Nespresso machines would make an amazing gift. Personally, I went for the Vertuoline machine. I bought this at least 5 years ago and it's still going strong. I like that it has a storage container on one side for the empty pods and a water reservoir on the other, so I can make a lot of coffees before having to refill.
I bought a simple glass-topped Nespresso pod holder on Amazon that I put underneath and it's the perfect combo for that easy, delicious cup of joe in the morning.
4. Fellow Ode Brew Coffee Grinder:

Ready to impress? This award-winning coffee grinder might be the top pick.
Any true coffee lover knows how important it is to have a great coffee grinder. If you've ever sat there and kept grinding and grinding your beans until there's everything from a fine powder to chunks still left behind – you know the value of having a truly consistent grind.
Ode was designed to perfect your daily brewed coffee— AeroPress®, pour-over, French press, cold brew, and more. No more guessing what kind of grind they need for the perfect cup of joe!
With 64 mm professional-grade flat burrs, 31 grind settings, and unique single dose loading for maximum bean freshness, Ode is ready to hit the grind running! Plus, let's be honest – she's just pretty, isn't she? A gift that will make the man and the lady of the house happy 🙂
5. Jot Concentrated Coffee:
I've written quite a bit about Jot lately – the concentrated coffee. It's such a cool idea and actually works and has great flavor. Plus, it's the perfect coffee for the minimalist, who doesn't like a lot of clutter, or for the family whose refrigerator real estate is already taken up with Lunchables and kid food.
Originally, I planned to try as many concentrated coffees as I could and write about them, but honestly, most of the other ones I've tried are like bad gas station coffee. Jot – however – smells like fresh coffee, mixes instantly on contact and tastes great. I've even compared it head-to-head with my other go-to coffee and it holds its own.
Jot comes in a great looking box that would be easy to wrap, too. If you're interested, score our exclusive Jot and WTF bundle, which includes 2 bottles of Jot at a 25% discount, their signature tablespoon and your choice of Fellow Coffee Tumblers! .Full review on Jot here.
6. Chemex 8-Cup Classic Pour-Over Glass Coffee Maker: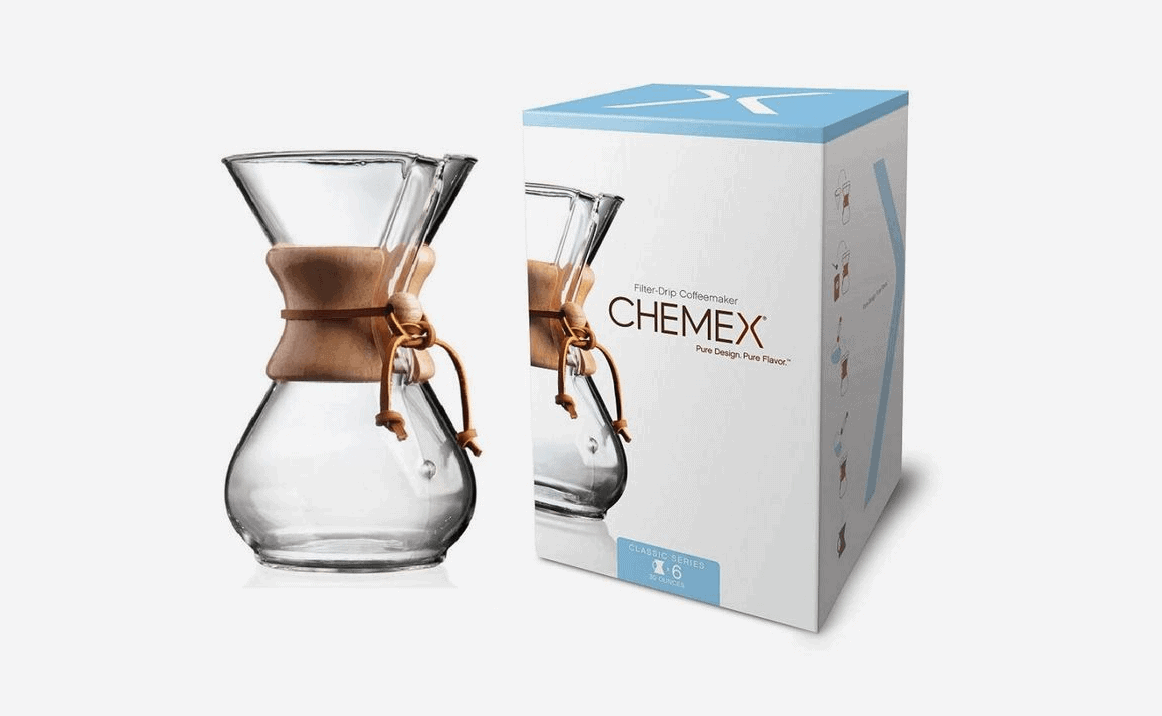 Chemex is really a staple in the pour over world. Their glass coffee makers are not just brilliantly designed (by a chemist, of course!), but also beautiful. The non-porous Borosilicate glass doesn't absorb odors or residues, meaning that this glass beauty will last a long time.
The design is simple to use, particularly when combined with their patented Bonded Filters, which make brewing that perfect cup of coffee (or 8 cups) a breeze.
Combined with the perfect coffee grounds and hot water from the perfect electric kettle – you'd never have to leave the house to buy a coffee again.
Well, unless you want to.
We wrote a whole guide on how much we love pour over coffee and how to make it in this post.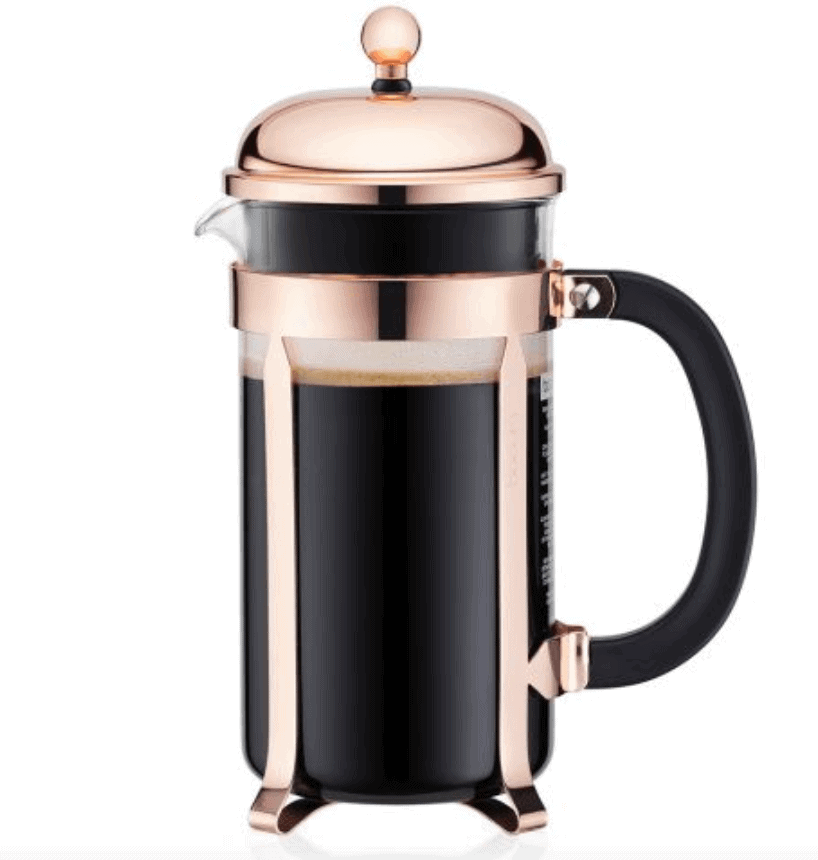 I'll never forget how methodically my now husband used to make his coffee in the mornings with his french press. Up to that point, I was still relying on Starbucks coffee runs as I raced to school every morning.
But, on the weekends, when we slowed down (and didn't have kids yet), we would go through the slow, sweet process of making coffee with his french press. If you haven't tried it yet – I highly recommend. Your patience is rewarded, I promise, and it's always a little fun to slowly press the plunger down and see your coffee come to life.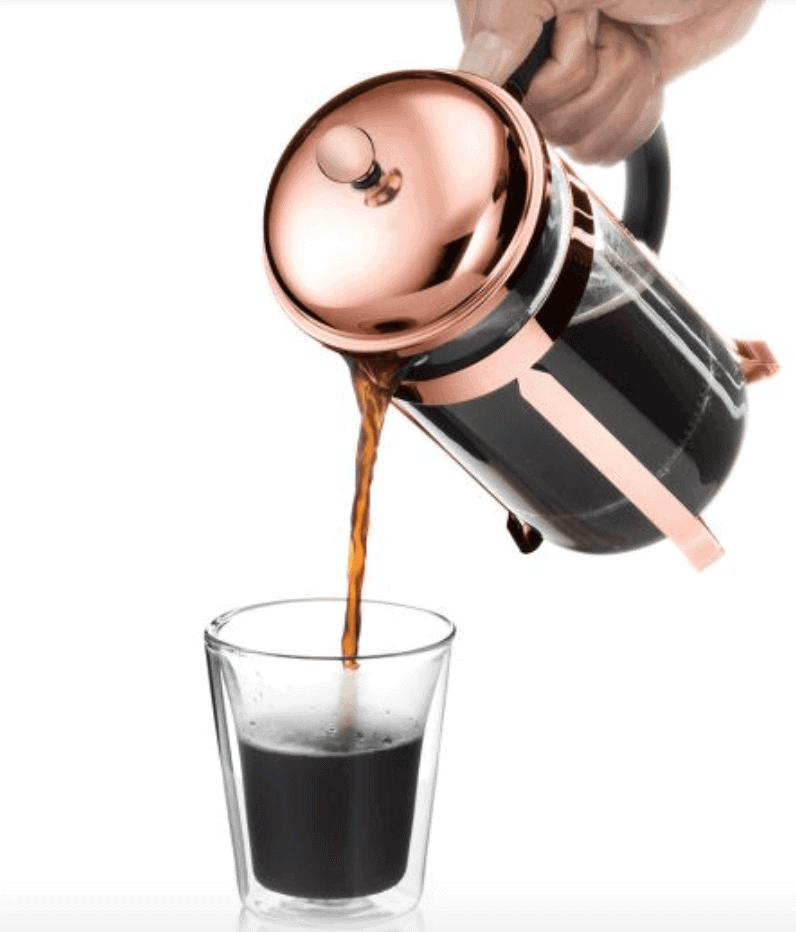 The french press is considered by some to be the perfect brewing method for coffee and the Bodum Chambord is one of the best. Available in several colors, the carafe is also a heat-resistant borosilicate glass, the handle is made from polypropylene with a matte finish, and the plunger is stainless steel. If you're receiver cares about the environment, they'll love that a french press does not use any paper filters or plastic capsules of any kind.
Plus, the copper Chambord is so chic and would be a gorgeous addition to any coffee lover's repertoire. We love French press coffee, too, which is why we made you a handy video guide on how to make the perfect French press coffee in 5 minutes here.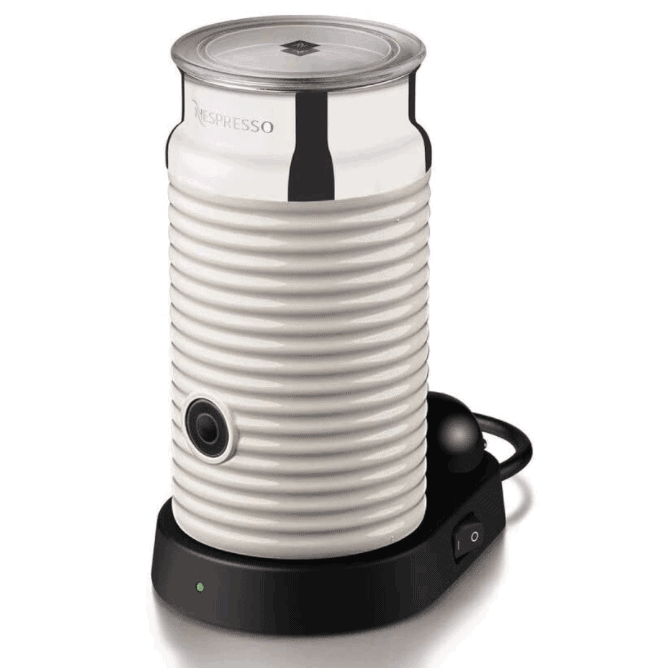 How could I not include this one? My favorite milk frother ever! I happened to get this in a bundle with my Nespresso and shoved it in a closet, no clue how to use it.
Then, every coffeehouse started popping up with cold foam drinks and I thought – hmm, I wonder if I could make it at home. Sure enough, this thing makes both cold and warm foam. By using the cold function, you just insert milk, any extracts or syrups, hit the cold button and let it work its magic.
Perfect cold foam every time. It's almost foolproof. The only thing you can mess up on is over filling it with your choice of milk. That's it. Once you figure that part out, you're golden. Perfect foam all the time.
The best gift for someone who loves expensive cold foam drinks.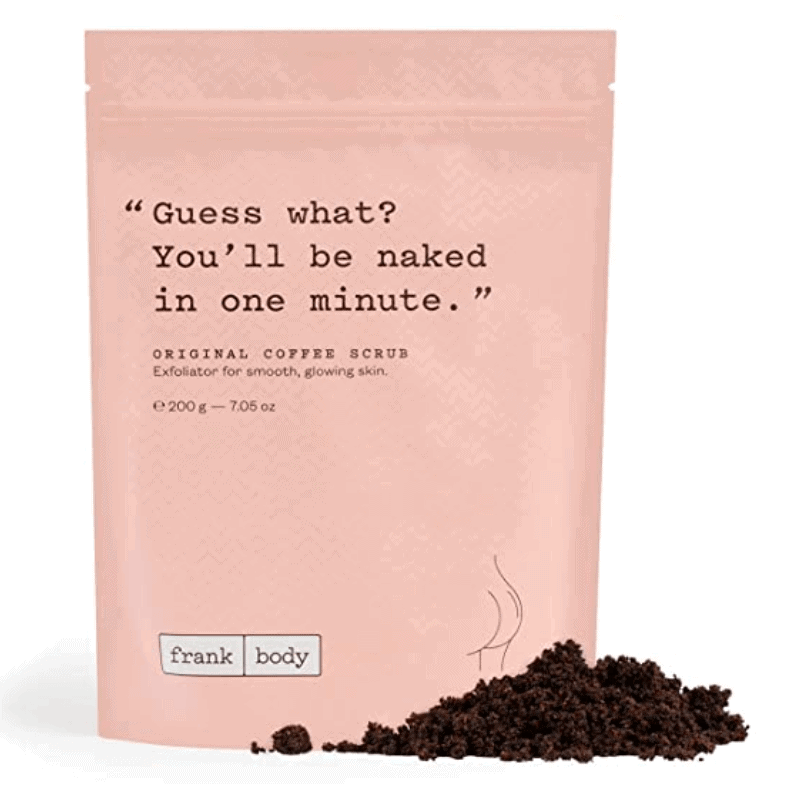 There's a really good chance that someone who likes to drink a lot of coffee will also really like to smell like coffee, too.
I received this Frank Body coffee scrub in one of my beauty boxes awhile ago and was blown away at how delicious it smells and how great it is to use. Of course, the tongue-in-cheek packaging certainly doesn't hurt, either, you know what I mean?
This coffee body scrub is 100% natural, vegan, and combined with cold pressed sweet almond oil (which I LOVE), vitamin e (which I talk about in this skin care post) and sea salt for added exfoliation and anti-bacterial qualities. Actual Robusta coffee grinds help to stimulate blood flow, promote collagen and leave your skin super, super soft and delicious smelling.
You could even shove this in a stocking, too, for the coffee addict in your life.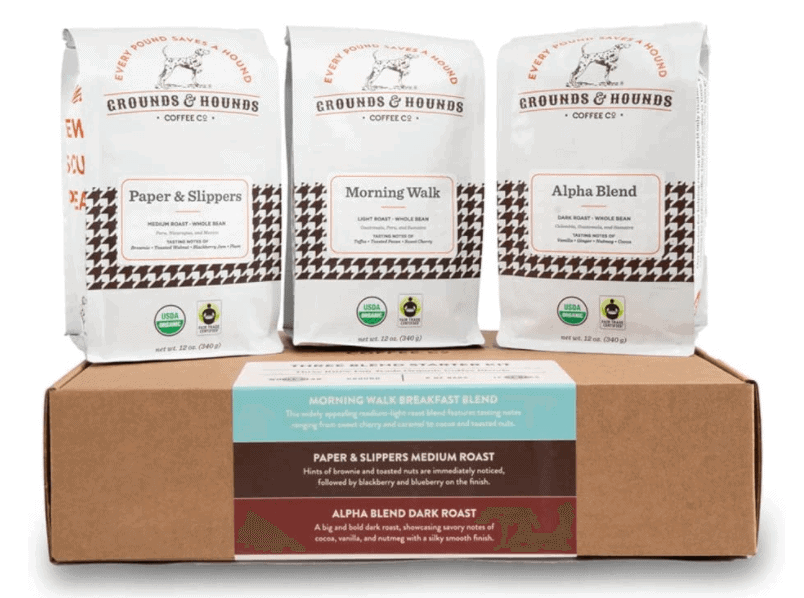 Know someone who loves coffee and dogs? Or, someone who loves coffee and doing good? Well, this might be the perfect gift.
With three pounds of 100% organic fair trade whole bean coffee ready to grind and fun titles like Paper & Slipper, Morning Walk and Alpha Blend, any dog lover/coffee drinker will be ready to start tasting these decidedly different coffee blends.
Plus, Grounds & Hounds stands by their mission that every cup helps a pup. Every sale supports animal rescue initiatives and organizations that provide a second chance to dogs in need. Adorable.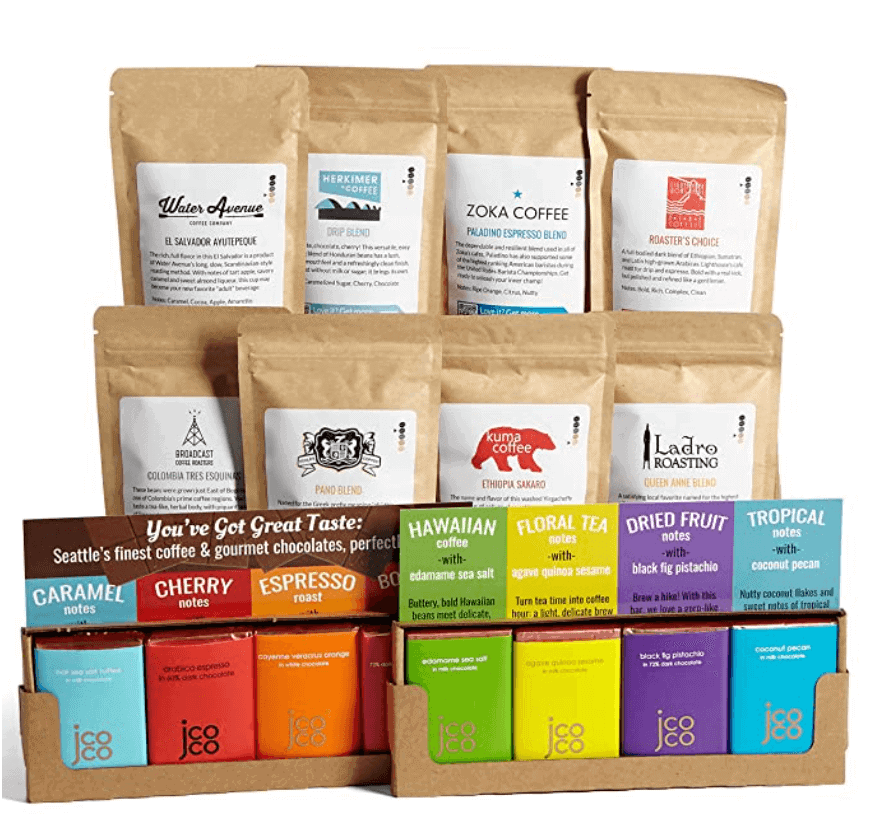 Who doesn't love chocolate and cover – especially when they're so perfectly paired by true coffee aficionados like the good people at Bean Box?
This genius gift set includes 8 handpicked gourmet coffees paired with 8 chocolate bars with tasting notes and roaster profiles. After all, why should only wine tasters have all the fun? There are so many unique flavors that can be found in coffee, too, and this deluxe tasting kit gives the coffee lover everything they need to have a delicious coffee and chocolate pairing of their own – safely at home.
You can also sign up for a monthly coffee subscription, too, but starting with this deluxe kit is a great way to go.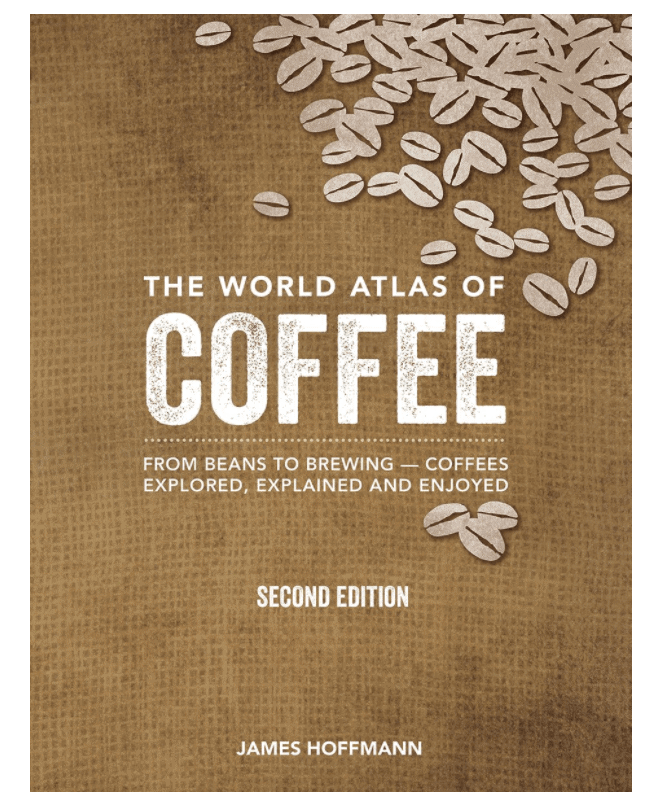 What true coffee lover wouldn't want to know all about the world of coffee? This highly rated coffee table book about coffee takes readers on a tour of the coffee growing countries and shares details on where coffee is grown, the people who grow it, and even the culture and their way of life. This book truly gives you an around the world perspective on our favorite drink.
This book is actually used by barista and coffee-tasting instructors across North America and even overseas, too, so we know it's an essential selection.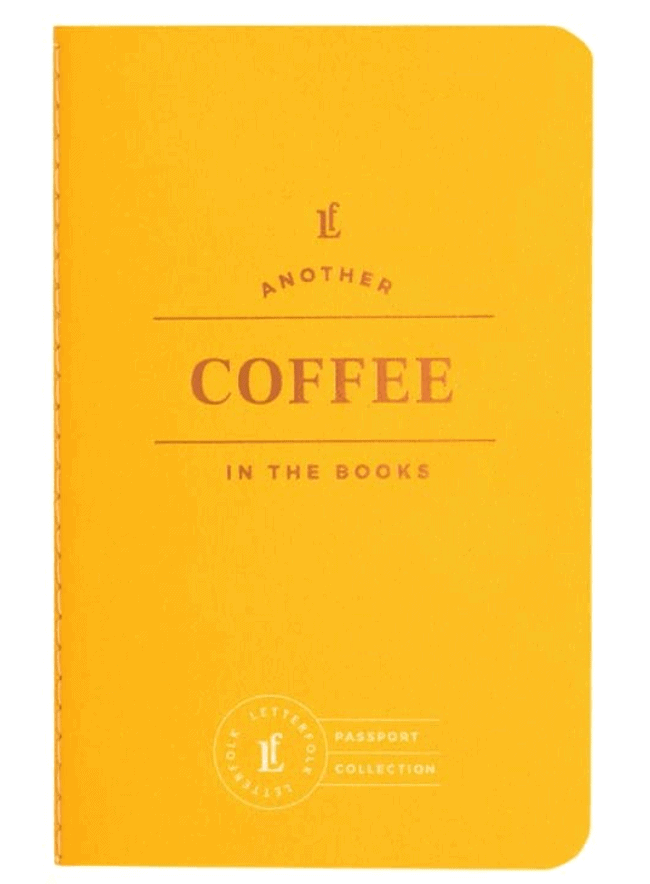 Know someone who wants to taste all the coffees? This passport sized coffee journal will easily fit in a back pocket or a small purse as they go on their adventures to drink all the coffee. With 48 pages that include 20 record pages for different coffees they've tasted and bonus pages for memory-based information, this coffee journal is designed for the serious coffee drinker.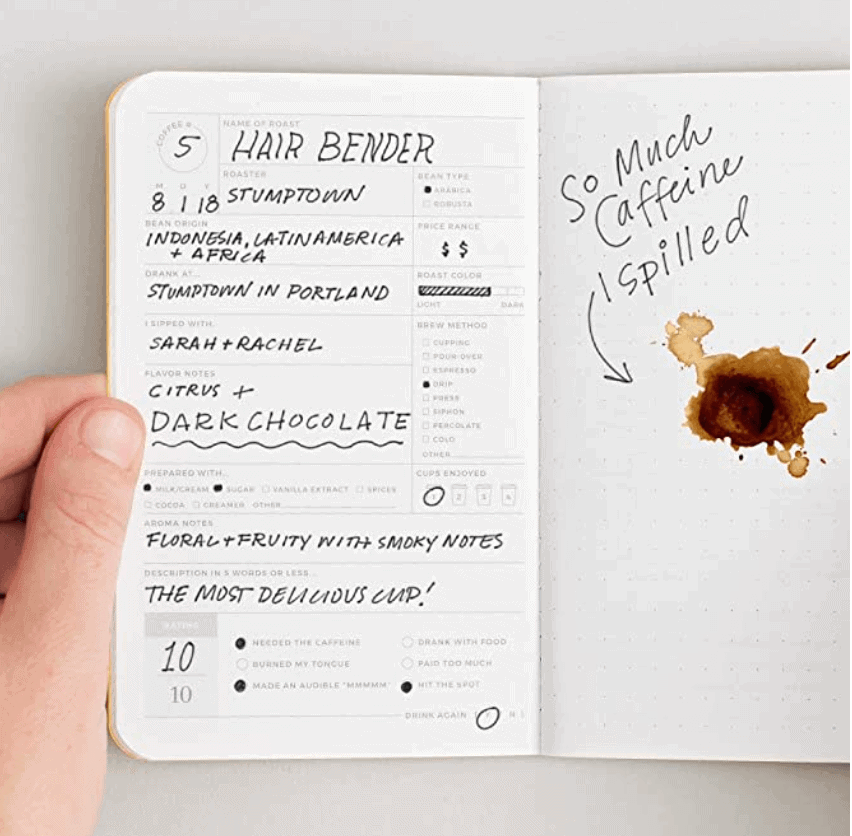 Every journal is printed in the US with center-sewn binding and a foil stamped coffee for a premium journal ready to go to all the coffeeshops.
Yup, we couldn't resist. Do we all have enough coffee mugs? Probably. Are any of them as solid and perfect as these ones? Most likely no.
When we designed these mugs, we knew they had to be more than just a pretty face. They had to be solid, large enough for a serious coffee drinker, comfortable to hold, easy to wash and have a double-sided design.
These ceramic mugs have been our big-time favorites lately. Bonus points for some seriously funny phrases.
Shop funny coffee mugs in our Etsy shop here.
******
What do you think? Do any of these seem perfect for the coffee lover in your life? I think this is the most fun I've ever had researching a gift guide!
I hope you found the best gift for yourself or a fellow coffee drinker. Stay tuned for more great coffee reviews.
Get roasted,
A